#}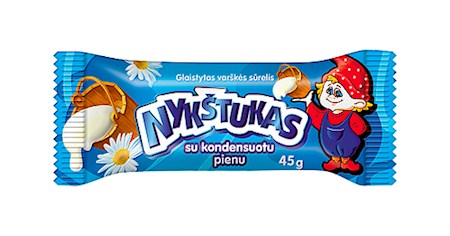 SKU: 345193
Nykstukas Glazed Curd Snack with Condensed milk | 45g
Add review
Product is currently not available
Ingredients:
Curd 85% ( curd 67%, sugar, butter , condensed milk ingredient 6% (glucose and fructose syrup, sugar, sweetened condensed milk 18%, butter , pectin thickener, salt, sugar syrup, acidity regulator sodium citrate, substance )); cocoa icing with butter 15% (sugar, coconut fat, low-fat cocoa powder, cocoa mass, butter 10%, emulsifier rapeseed lecithin, aroma).
Description:
Nykstukas" mini cheese cakes are fresh curd coverred in a layer of chocolate melting in your mouths… Everyone adores "Nykštukas" because it's the curd bar we grew up with – the one that has been pampering us with its delicious taste and keeping us from turning old!
Curd snacks are perfect for breakfast, a small snack or dessert. Inside a chocolate-coated glazed curd treat you will find delicious curd naturaly flavoured with a tasty filling.
A healthy alternative to chocolate and cakes - mini cheesecakes!
Product of Lithuania.